Thank you for attending in 2019! 
Greeneville TN Hamfest
Saturday APRIL 17th, 2021
FEBUARY 2021 UPDATE – PLEASE READ ABOUT CHANGES FOR 2021 –
Do not enter if you are sick or experiencing any symptoms of COVID-19.
Greeneville Hamfest will be held completely outdoors this year.  There will be no indoor spaces available. Indoor restroom facilities will be available.  The flea market area will be marked off into 10×20 spaces.  Each occupied space or spaces must have an empty parking space between adjacent occupied spaces.  The empty spaces separating occupied spaces cannot have items displayed in them and must remain clear to comply with social distancing.   All other hamfest policies still apply.
Admission –  $5 per person.  This year your admission will include 1 free tailgate space per vehicle.  Any additional spaces needed will be $5 each.
Dealers –  We are unable to provide indoor or covered areas this year.  We will reserve an outdoor area for your use with pre-registration.   Power can be provided at no extra charge.  Table rental is available but we have a limited number available.  This year we will not be providing any overnight security as we have in the past.   Contact us to discuss your needs.
The back gate will open on Friday April 16th around 3 PM provided the flea market area marking has been completed.   You may enter and claim spaces when the gate is opened.  The rear gate will close at 10 PM.  Overnight parking will be allowed.  The back  gate will reopen at 6 AM Saturday morning.
Information about COVID-19 cases in Greene County and surrounding areas is available from https://www.tn.gov/health/cedep/ncov.html.    The website is updated daily around 5 pm EST.
If you are within 50-75 miles of Greeneville, join us on Monday evenings at 9PM local time on 145.390 88.5, 443.575 100.0, or 53.290 100.0 linked repeaters for our weekly net.    We use Netlogger and the net name is AJARC Monday Net.   More information about the club can be found at https://ajarc.org/.
Radio, Computer, and Electronics Swapmeet
Everyone Welcome!
Flea Market Gates open at 6 AM for Everyone!  Outside Flea Market Vendors May Set Up After 3 PM Friday And Overnight Parking Is Allowed.  The Commercial Building (Inside Vendors) IS NOT AVAILABLE FOR 2021.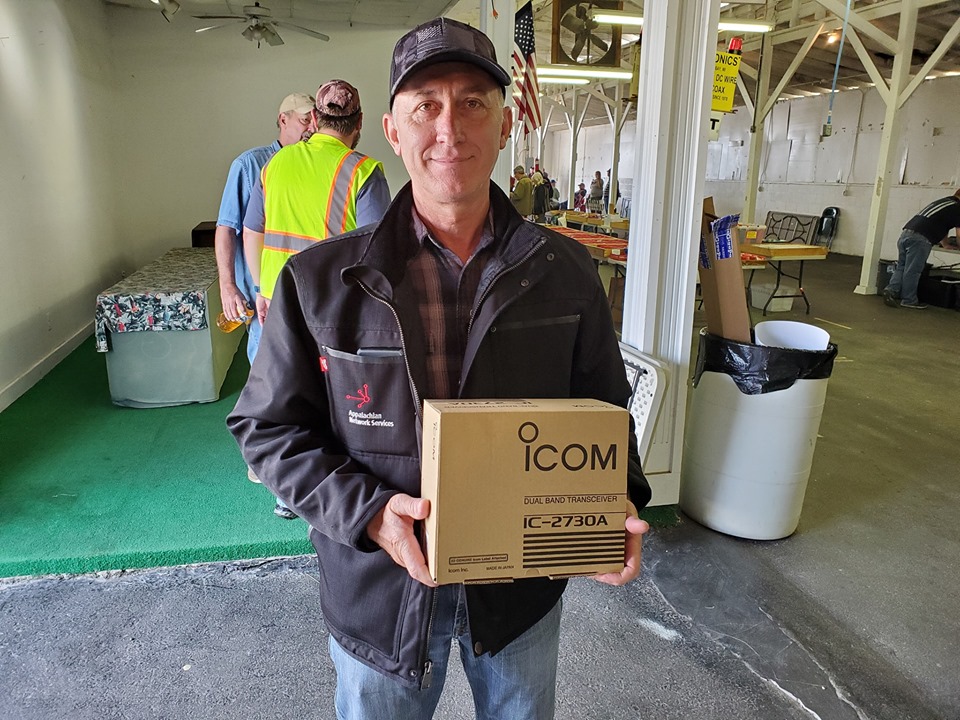 Dual Band ICOM  IC-2730A 2019 Grand Prize Winner Larry KF4LCG with a big smile on his face! More hamfest pictures will be posted soon.

Greeneville Hamfest appreciates the support from these businesses for the 2019 Greeneville Hamfest
Exclusive Electronics (Radio Shack) – Tower Electronics – Andrew Johnson Golf Club – Gosnell's Stereo & Music

Use 145.390 -600 88.5 tone,  443.575 +5 100.0 tone, or 53.290 -1 100.0 tone if you need assistance finding the hamfest.
*Please read door prize policy
Visit the Andrew Johnson ARC website
Hosting Donated by