Flea Market And Parking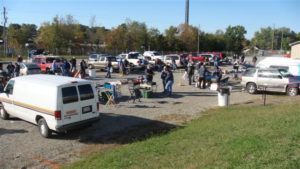 No flea market vendors will be allowed entry into the fairgrounds on Friday afternoon until flea market spaces are marked.  We anticipate this to be completed around 3 PM.  All flea market vendors arriving before official opening can only be admitted after spaces are marked.  No exceptions.  Those waiting to enter may line up and wait for opening provided the road and gate are not obstructed on Friday afternoon.

There is a large, level gravel parking lot for the flea market.  Entry will be made from the back gate of the fairgrounds from Jeff Woods Memorial Drive. Please follow the signs.  Outside flea market spaces are approximately 10 x 20 ft.  
  Each person entering the gate will be required to purchase a $10 general admission ticket unless under 12 years of age.   Flea market spaces are $5 EACH, no limit. 

The  gate will be open Friday around 3 pm for setup and close at 10 pm.  We will reopen at 6 am Saturday morning. If you arrive after the gate closes on Friday evening you may wait in the parking lot outside the gate for it to reopen.  DO NOT BLOCK THE GATE ENTRANCE!  All flea market vendors are welcome to park overnight within the fairgrounds.  No security is provided for the outdoor flea market.  AJARC, Greeneville Hamfest, and Greene County Fairgrounds are not responsible for any accidents, losses, or thefts.  
All Flea Market Venders please read.  Occupying a space is a binding contract that you agree to the following terms:

All items being displayed should fit within your space(s) and not overlap over into the road or marked walkways.

Alcohol, firearms, ammunition, pornographic or offensive materials, explosives, items deemed inappropriate by the hamfest staff or fairgrounds staff, or any other items prohibited by local, state, or federal law are prohibited from being sold or displayed.

If you bring your pet,  please be responsible and clean up after it.

Please Vacate The Fairgrounds by 2 PM On Saturday.
Any disagreements with the outdoor flea market manager or building manager can be appealed to the hamfest chairman whose decision will be final.